Philosophy and Principles
For Mitsubishi Corporation, The Three Corporate Principles have constituted our corporate philosophy since our foundation.
The Three Corporate Principles espouse the cultivation of a business that contributes to the future of the world and humanity. They compel us to conduct business with fairness and integrity at all times, while seeking to balance social and environmental needs.
Our policies including the "Corporate Standards of Conduct", the "Environmental Charter" and the "Social Charter" were formulated in accordance with the Three Corporate Principles. Striving to raise corporate value as a global business enterprise, MC aims to contribute to the continual advancement of society.
The Three Corporate Principles
The Three Corporate Principles are the foundation of the vision and strategy for our commitment to corporate social responsibility.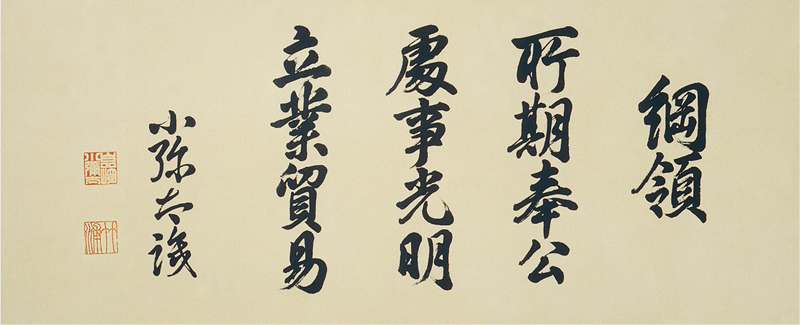 Environmental Charter
At Mitsubishi Corporation we consider the Earth itself to be our most important stakeholder and are continually working towards the realization of a sustainable society through our business activities.
We will strive to reduce greenhouse gas emissions by continually implementing new efficiency measures and embracing new technologies.
We will promote the sustainable use of natural resources including energy, minerals, food stocks and water throughout our global business operations.
We recognize the critical importance of what ecosystems can provide and are committed to protecting ecosystems and mitigating any potential impacts on biodiversity.
We will strive to create and enhance environmental benefits by undertaking conservation activities and reducing our environmental footprint.
We will continue to actively engage and work with our various stakeholders openly and transparently and disclose information on the environmental impacts of our business operations in an appropriate and timely manner.
We will conduct all of our activities in compliance with environmental laws while adhering to international rules and social standards.
July 2010
Participation in the United Nations Global Compact
Mitsubishi Corporation joined the UN Global Compact in 2010, declaring our commitment to the following ten universal principles in four fields: human rights, labor, environment and anti-corruption. Guided also by the spirit of the Three Corporate Principles, we are promoting initiatives in each of these four areas.
The Ten Principles of the United Nations Global Compact
Human rights

Principle 1

Businesses should support and respect the protection of internationally proclaimed human rights; and

Principle 2

make sure that they are not complicit in human rights abuses.

Labor

Principle 3

Businesses should uphold the freedom of association and the effective recognition of the right to collective bargaining;

Principle 4

the elimination of all forms of forced and compulsory labor;

Principle 5

the effective abolition of child labor; and

Principle 6

the elimination of discrimination in respect of employment and occupation.

Environment

Principle 7

Businesses are asked to support a precautionary approach to environmental challenges;

Principle 8

undertake initiatives to promote greater environmental responsibility; and

Principle 9

encourage the development and diffusion of environmentally friendly technologies.

Anti-corruption

Principle 10

Businesses should work against corruption in all its forms, including extortion and bribery.