In October 2013, Mitsubishi Corporation (Russia) LLC (MCR) contributed to the Charity Foundation "Podari Zhizn" for implementation of the Foundation's programs aimed at treatment and rehabilitation of children with haematological, oncological and other serious illnesses.
In 2018, Mitsubishi Corporation donated to the Foundation "Dari Dobro" in the Ulyanovsk region to support the development of charity programs for orphans and people with disabilities.
Support of Charity Foundation "Life in Motion"
Since 2015, Mitsubishi Corporation (Russia) LLC (MCR) has been supporting Charity Foundation "Life in Motion", which is engaged in providing material and other assistance to children with disabilities, orphans and children left without parental care. Every year we support the Charity Concert "Life in Motion" to raise public awareness about children with physical disabilities, as well as to raise money for treatment and adaptation for these children. Since 2019, the Foundation started to provide treatment for children in the prosthetics center "I Want to Walk", which was opened with donations from sponsors, including MCR.
In September 2019, around 40 volunteers from Mitsubishi Corporation Group Companies visited I Want to Walk. Volunteers communicated with the patients, had a tour of the facilities and participated in activities such as tree planting, bench painting and clean up.
In November 2019, with assistance from MCR, a ward of Foundation "Life in Motion" took part in the 39th Oita International Wheelchair Marathon and, together with representatives from Foundation and MCR, visited Social Welfare organization "Japan Sun Industries" ("Home of the Sun"*).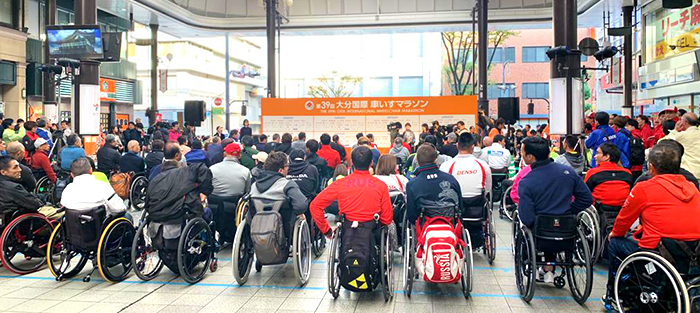 *"Home of the Sun" was founded in 1965 by Dr. Yutaka Nakamura. With the motto "No Charity, but a Chance!" he decided to create an organization, where people with disabilities will be able to not only integrate into society, but also work. Being sympathetic to Dr. Nakamura's ideas, in December 1983 Mitsubishi Corporation founded a joint venture Mitsubishi Shoji & Sun Co., Ltd, where disabled people work in the field of IT technologies.
In February 2020, MCR supported the Charity Concert of "Life in Motion" again.
In March 2020, around 45 volunteers from 6 Mitsubishi Corporation Group Companies once again visited children prosthetics center "I want to walk". The volunteers planted herbs in the greenhouse, cleaned up the territory and assisted in preparations for "Maslenitsa" festival.
In September 2021, Mitsubishi Corporation signed an agreement with the Children's Prosthetics Center "I Want To Walk" on the start of the socially important project "House of the Sun", which is designed to help children and adolescents with disabilities acquire skills for future occupations such as: carpentry, sewing and pottery.