Mitsubishi Corporation has been engaging in a wide range of activities that contribute to the well-being of communications around the world based on an awareness of our responsibility to be a good corporate citizen.
Mitsubishi Corporation's social contribution activities, mainly in the field of the global environment, public welfare, education, culture & arts and international exchange, prioritize continual programs and voluntary efforts by employees worldwide.
In Thailand, Mitsubishi Corporation has continuously rendered financial contribution to Thai society through various kinds of social, education and environment activities such as scholarship to students of Chulalongkorn University, Thammasart University and Kasetsart University, rehabilitation of 5 flood-hit primary schools in Ayutthaya, mangrove reforestation project in Chantaburi, donation of the High Frequency Oscillation Ventilator to Phanakorn Sri Ayuthaya Hospital, Songkhla Province Public Health Office. Area Protection and Development Project at Ban Khunsamutjeen Community, Samutprakarn province, to build up the protection barricades 350 meters and mangrove plantation 3,200 units.
In 2015-2016, MC contributed financial support to Agriculture sector for the view point of sustainable and autonomous growth of agriculture industry in Thailand which would be involved almost one third of all population by supporting the project of Kalasin Agricultural Research and Development Center (KARDC) to transfer Agriculture Production Technology to Kalasin farmers in the 1st phase and supported Kalasin University to continue to develop smart farmers and expand cassava network in their own districts. The success of the 1st phase to increase cassava farmers's productivity and income are the key factors to continue to develop them on the 2nd phase.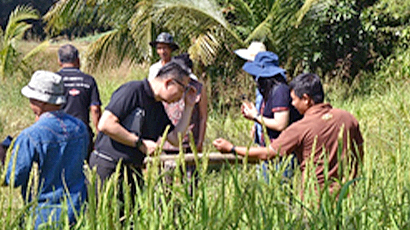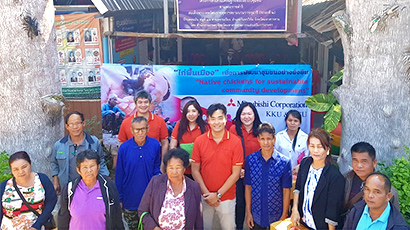 Mitsubishi Co., (Thailand) Ltd. and Thai-MC Co., Ltd. have been promoting the philosophy of Mitsubishi Corporation to contribute to sustainable societal growth in Thailand for years. We also supported Coral Care project at Kham Island, Chonburi province and donated financial support to help renovation and rehabilitation for flooded public organizations in Ayutthaya such as community hospital, kindergarten-prathom schools and universities for monks.
The other CSR projects are, for example, check dam project inside the jungle of Erawan National Park in Kanchanaburi, infant mangrove project at Mangrove Development Station 6 in Petchaburi, scholarship for students of Burapha University in Chonburi. With our strong philosophy and principles, we commit to keep on rendering financial contribution through CSR activities for betterment of Thai well-being and sustainability of Thailand and global environment.
In remembrance of 100 days after the demise of our beloved late King Rama IX, the company held a volunteer activity called "รักพ่อ รักษ์เมือง" or "Rak Por Rak Muang" meaning "Love our Dad, Keep our Place Clean" and joined with the Big Cleaning Day activity of Bangrak District Office to do good things together for public.