Annual Internet of Thing (IoT) Project Competition
Information Systems Technology and Design (ISTD) is one of the pillars in Singapore University of Technology and Design (SUTD) that offers an undergraduate programme in computing.
Introduction to Information Systems and Programming course is one of core modules offered to Term 4 students every year. Students are grouped into teams of five to six to work on a semester long project related to smart applications that include Android App, Data Analytics and Internet of Things, which are put up for display at the annual ISTD Design Exhibition. Project teams are unable to further develop their project prototypes beyond the course term due to lack of funding and resources.
Donations from Mitsubishi Corporation assist us to address this issue. In addition, passionate students who wish to further develop their project prototype beyond the course term are now able to tap on the project seed funding. This creates a valuable opportunity for students who are keen on entrepreneurship or those who wish to fully develop a new product/services for the real-world.
Spin off success of the student-developed mobile application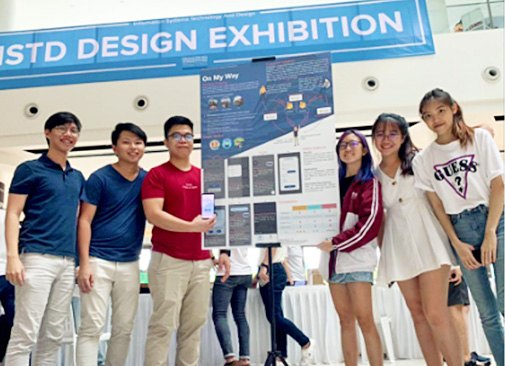 Spinoff success – the student-developed OnMyWay classroom project has gone a long way from its origins to become the task-pooling mobile application it is today.
Initially created for our 50.001 Introduction to Information Systems & Programming module, the app connects SUTD students by matching users to fellow students offering relevant products (such as essential project items) and services (think late-night supper runs!).
Staying true to our strong entrepreneurship culture, the app was actualised with the help of talent pooling from the student community and school funds. Find out more about the app by tapping on the link!
Fun fact: the iOS version of the app wasn't part of the project requirements, but out of curiosity and encouragement from the ISTD office, the students taught themselves the Flutter framework in order to redevelop the app for iOS devices.
https://theway2co.wixsite.com/mysite