The Energy To Shape Tomorrow
The Energy To Shape Tomorrow
LNG (Liquefied Natural Gas)
Natural gas is liquefied at minus 162 degrees Celcius, and once in liquid state, it is reduced to just one six-hundredth of its original volume. This makes it easier to transport and store.
In 1969, the same year that the first person landed on the moon with the Apollo 11, the first cargo of liquefied natural gas (LNG) arrived by ship from Alaska to the Port of Yokohama. Natural gas is a combustible fuel composed primarily of methane, and at the time, it was rarely used outside of natural gas producing countries. A key feature of natural gas is that it results in comparatively lower greenhouse gas (GHG) emissions compared to other fossil fuels when combusted, and switching to LNG early also helped Japan address the serious air pollution problem it was experiencing in the late 1960s.
In light of increased environmental awareness in recent years, together with renewable energy, the global demand for natural gas has surged. Demand for LNG is particularly strong in China and other Asian countries, so for Japan, as the world's biggest LNG importer, securing a stable supply of the fuel is becoming increasingly important.
The world's supply of fossil fuels is finite, but thanks to the shale gas revolution that began in the late 2000s, it is estimated that natural gas reserves could last more than 100 years. As the world moves urgently to decarbonize the energy sector while still meeting the needs of a growing population and economic growth, LNG will continue to play a crucial role as a stable, lower-carbon fuel source.
In the future, Japanese textbooks may list the start of LNG exports alongside the Apollo moon landing as some of the most significant events of 1969, with both having become hugely influential in shaping the future of society.
Delivering Canadian Shale Gas to Japan
Through its joint-venture company, LNG Canada , Mitsubishi Corporation (MC) began construction of an LNG plant on the Canadian west coast in October 2018. The plant, which will have an annual production capacity of 14 million tons, represents the first large-scale LNG project in Canada to tap into the country's abundant shale-gas reserves. Japan-bound exports are expected to get underway in the mid 2020s. Here at MC, we remain dedicated to leveraging our 50 years of experience in the LNG trade to help develop this new industry in Canada and secure a stable supply of energy for Japan.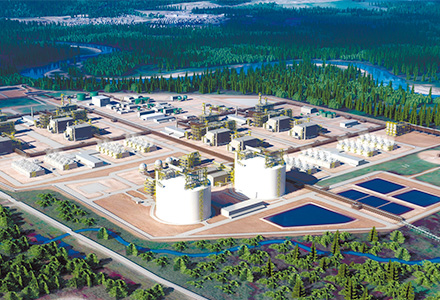 This article appeared in Asahi Shimbun's "GLOBE" feature of June 2, 2019