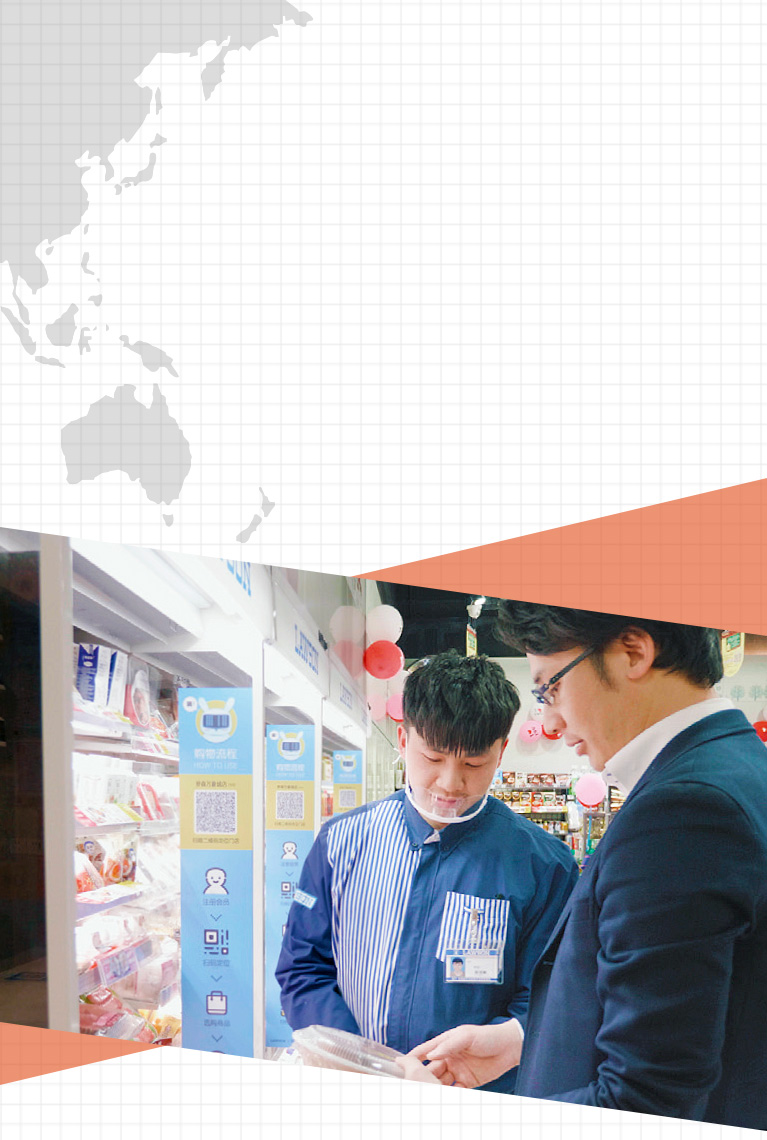 Vol.1
Lawson China
Helping to Enrich
the Quality of Life in China
This series introduces some of the MC Group's global operations and the people behind them. Our first installment features Mr. Takafumi Katsuki, the youngest employee ever to be appointed Chief Financial Officer (CFO) at Lawson China (Holdings) Co., Ltd. (hereinafter "Lawson China").
Rebuilding a Brand and Adding Value to Infrastructure and Information Aiming for 10,000 Stores by 2025
China has about 100,000 convenience stores, about 56,000 of which are similar to those found in Japan. That is also about the same number of convenience stores in Japan, but considering that China is about 25 times as large as Japan and has ten times the number of people, there is still considerable room for growth in its convenience store industry.
Lawson expanded to China in 1996, but after launching its first store in Shanghai, the company had a difficult time growing its network, and at one point had to transfer some of its stock to a Chinese state-run enterprise. The breakthrough came in 2010, when Lawson announced it would be making a concerted effort to grow its business in China. "It was not the smoothest of starts," admits Lawson China CEO Motonobu Miyake, who spent a year negotiating with the Chinese company. After reviewing Lawson China's strategy to buy back more of its own shares, Miyake spent several more years trying to rebuild the convenience store's brand, boost its product development expertise, and otherwise strengthen its fundamentals. As its foundations took root, Lawson China steadily began increasing its number of stores, and by the end of 2014, its nationwide network had grown from 500 stores (in 2011) to 1,400. It set up regional subsidiaries in Beijing, Dalian, Shanghai, and Chongqing, and developed its stores further by leveraging joint ventures and mega-franchise agreements with local retailers.
"In the convenience store business, it is vital that we continue to strengthen services for our franchises," says Miyake. "We can add significant value by sharing information on hot-selling items or upgrading infrastructure, which might involve enhancing Lawson China's product-development lines or providing better employee training. Success on those points will lead to more requests to open Lawson franchises throughout China. Right now, we are targeting cities that have at least two million residents, of which there are about 50 in China. We hope to have 4,000 stores by 2020, and somewhere close to 10,000 by 2025."
To Miyake, Lawson's position in China is analogous to a period in China's history known as the Three Kingdoms (220 – 280), when the kingdoms of Shu, Wu, and Wei fought for control of the country following the demise of the Han Dynasty. Miyake views Lawson China as the kingdom of Shu, its competitors as the kingdom of Wu, and China's e-commerce market, which is dominated by Alibaba and Tencent, as the kingdom of Wei. "What caused the kingdom of Shu's demise?" he asks rhetorically, referring to the conquest of Shu by Wei in 263. "Our first order of business is to make sure that our systems and infrastructure are robust enough to withstand challenges from our competitors. We must take a lesson from history, and not misjudge our foes the way the Shu misjudged the Wei." China is a massive consumer market, and one that is growing larger every day. Miyake knows that if Lawson China is to survive, it must start preparing for the future today.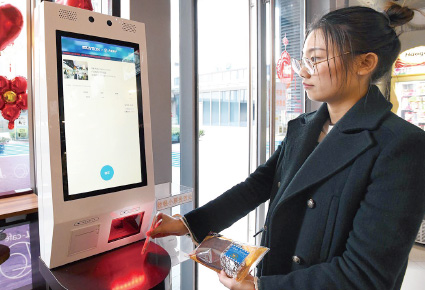 Combining Mutual Strengths to Improve Services in Japan and China
It was during this rapid phase of market expansion that Katsuki was dispatched from Mitsubishi Corporation to take over the CFO duties at Lawson China. Katsuki earned his MBA at Tsinghua University, where he interacted with some of China's best and brightest young minds and learned how the Chinese maximize their profits by testing the limits of their risk-bearing capabilities. While studying at Tsinghua, he realized that his own strengths as a Japanese national would be defined by his ability to grow recognition of Japanese brands and share Japanese know-how with other countries, and upon learning of his appointment as CFO, he became determined to spread the "combini-culture" that has become symbolic of his homeland's expertise in customer service and convenience.
"Every day we roll out new products, because our aim is to ensure that customers keep coming back," he explains, emphasizing how Japanese convenience stores excel at developing and marketing unique products. "Backing our efforts are Lawson's commitment to using only the finest ingredients and packaging. No effort is spared to provide customers with the best tasting convenience-store food."
In addition to his responsibilities as CFO, Katsuki oversees all of Lawson China's back-office operations. "Building trust-based relationships with vendors is essential if we hope to continue developing high-quality sweets, bento (packaged, ready-to-eat meals), and other products," he tells us. "We also need to remember that our brand value originates from everything we invest in improving quality, including customer service, store cleanliness, and employee education. All of those things are supported by our back-office operations, so my mission is to standardize, systematize, and outsource whatever procedures we can to optimize our workflow."
When it comes to supporting Lawson China's frontline operations, Katsuki's motto is "Never refuse a request for help." He consults with Miyake and the company's attorneys and other experts about risks, and takes every conceivable measure to ensure that the rewards are realized.
Electronic payment systems are widely used in China, and automated registers are more commonplace there than they are in Japan. Some 80% of Lawson China's customer transactions are paid for electronically. Customers can pay by scanning the products' bar codes with their smartphones. They then pass the bar codes displayed on their phones in front of the scanners at the automated registers to get their receipts. "We are providing the parent company in Japan with feedback, not only about how well Japanese ideas or technologies are being adapted, but also about some of the advances being made here in China," says Katsuki. "Our aim is to improve the quality of Lawson's services on both sides."
Prioritizing Convenience over Physical Presence and Dealing with Food Waste
In Japan, convenience stores are already part of the country's social infrastructure, but according to Katsuki, that has yet to happen in China. "The first step will be getting the Chinese people to embrace the combini-culture," he says.
Nowadays people can order on-the-spot bento deliveries with their smartphones, and knowing how popular those services have become, Lawson China has launched its own through a tie-up with a bento delivery company. "We are looking to enrich people's lives by going beyond the brick-and-mortar convenience store model and actually creating new needs," explains Katsuki.
Food waste is another urgent matter, and according to Katsuki, people in China are starting to recognize it as well. Lawson China stores that carry a certain quantity of stock are spearheading efforts to reduce waste and use unsold food products as fertilizer, which are helping to enhance the company's brand value and create a more sustainable society.
"This is an important country for all of humankind," says Katsuki. "And that is why we are doing our best to help improve quality of life here, in every little way we can." As a student, Katsuki once traveled to China on his own. It was the first time he had ever gone anywhere by himself, and he remembers how lost and confused he felt at the airport in Shanghai. Helping him to find his way was his host family, whose kindness and hospitality left a great impression on him. That week would come to be one of the most formative experiences of his youth, and it is no doubt one of the reasons why he remains so passionate about China today.
That passion is clear in his approach to work. "I am always conscious of consumer convenience here, so I am keen to take on new challenges, whether they be in services or products, or in brick-and-mortar or online business platforms."
After the Interview
A surprising fact about Lawson China stores is that they have a large selection of sweets, bento, gyoza (dumplings) and other hot foods, all of which are very tasty. One can see how Lawson is going that extra mile to cater to local preferences; for example, the dashi (soup stock) that is used to prepare the oden is different in each region. And judging from the long lunchtime lineups at their registers, Lawson China convenience stores appear to be growing on China's urbanites, a testament to the commitment of CFO Katsuki and his colleagues.
From the March 20, 2018 edition of The NIKKEI, Advertising