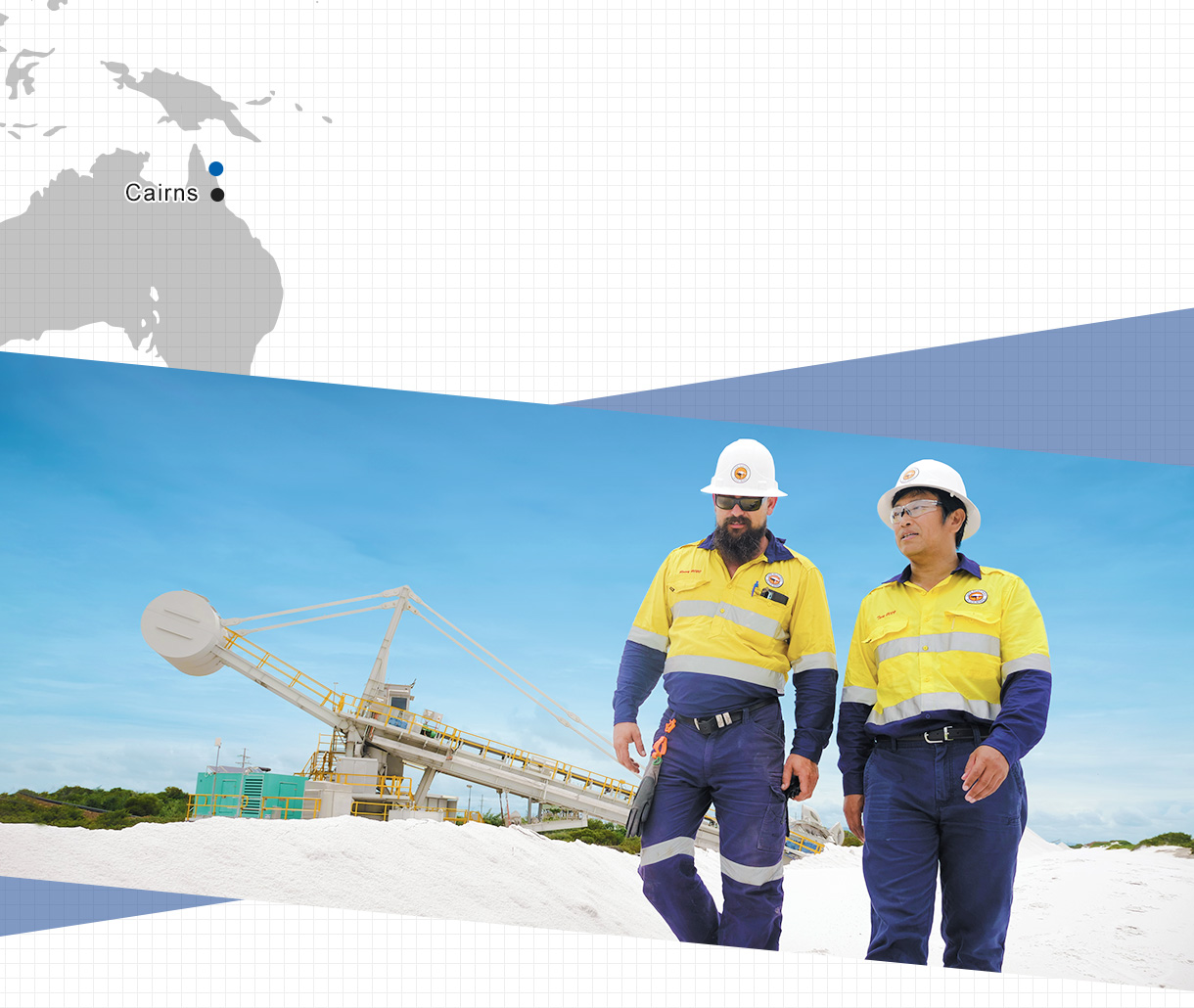 Vol.6
Silica Sand Mining
Meeting the World's Rising Demand for Silica Sand
Co-existing with Nature and Giving Back to the Local Communities
This series introduces some of the MC Group's global operations and the people behind them. Our sixth installment features Cape Flattery Silica Mines Pty Ltd. (CFSM), a silica-sand miner and wholly owned subsidiary of Mitsubishi Corporation (MC) that is based in Northern Australia. Silica sand is a raw material used to make glass and other products. MC's Taro Nakatani is the Chief Executive Officer (CEO) of CFSM, where he has been on assignment for approximately one year. When it comes to silica sand, CFSM boasts some of the world's largest reserves and highest quality, and demand for its product has been on the rise. Nakatani is passionate about his company's efforts to keep pace with that demand and contribute to the region's growth and development.
An Integrated Supply Chain from mining to international logistics and sales
Situated about 220 kilometers north of Cairns, Cape Flattery is home to one of the world's largest silica mines. MC have started importing silica sand from the mine to Japan in 1968, purchased CFSM in 1977 and built a wharf and shipping facilities in the late 1980s. Since then, MC has leveraged its extensive logistics and sales networks to develop an integrated supply chain, covering all operations from mining and processing to exports and sales. Today, roughly three million tons of silica sand are exported from the Cape Flattery mine every year, bound mostly for Japan and other parts of Asia.
Nakatani was appointed president and CEO of CFSM in May 2019. Having worked at MC for well over twenty years, most of his business experience was in the coffee trade and investment work. Silica sand was a completely unknown field to him, but when he first saw photographs and video content depicting the end-to-end mining operations, he was mesmerized by the sheer scale of the business. His initial apprehensions were quickly replaced by excitement and a steely determination to succeed.
"As a raw material for glass manufacturing, silica sand is indispensible," he tells me. "We use it every day, so CFSM is a vital part of MC's corporate family. I am looking forward to applying my experience in any way I can to help this business grow."
Since arriving at CFSM, Nakatani has been busy flying back and forth between the company's office in Cairns to the mine site. To earn his desired reputation as a "jack of all trades," he must efficiently fulfill the myriad responsibilities that come with being in charge. His main focus at present is drafting the company's long-term production plan, and so far he has developed a new mining strategy aimed at upping future output, gained the appropriate environmental approvals from the government authorities, and invested in new equipment that will hopefully boost productivity.
Another of Nakatani's challenges is developing HR systems, and he has been particularly attentive to mindset reforms designed to better motivate the company's workforce. When he reviewed the results of a recent employee-awareness survey and noticed comments about the opinions of frontline workers being ignored, he immediately set to work on improvements to ensure that their ideas would be incorporated into the company's future strategies.
The biggest reason that Nakatani was able to take action so soon after taking over at CFSM, is that MC is the company's sole investor.
"We have sole discretion to exercise our own good judgement and creativity in leading this company," he says, with a gleam in his eye. "This is a massive responsibility, but the rewards are just as huge."
High Purity and Ample Reserves
Providing the World with Stable Supplies of Silica Sand
Silica sand has long been used to make a variety of products, including construction materials and the glass for vehicle windscreens. In recent years, it has also been used to manufacture solar panels, and with interest in renewable energies now on the rise, its demand is taking off. CFSM is known for producing a particularly high grade of silica sand, and in terms of global supply stability, the company is in a league of its own.
"The Cape Flattery mine is among the world's largest, and the quality of its silica is exceptional," says Nakatani. "By ensuring that those strengths work smoothly with MC's logistics and sales networks, we can demonstrate the full breadth of MC's expertise in the silica-sand business. Close communication with MC's headquarters is crucial, so acting as a bridge between MC and CFSM is one of my most important responsibilities as head of onsite production." By teleconferencing with headquarters and taking business trips to Tokyo, Nakatani has made it part of his regular routine to share information as interactively as possible.
One of management's top priorities is to run the mine in ways that can preserve the natural environment.
"Obviously we need to abide by Australia's strict environmental standards, but we are taking some proactive steps of our own, such as reusing the water expended in the refining work," adds Nakatani. CFSM is also looking at ways to switch some in-house power generation from diesel to wind and curb fossil-fuel consumption.
A harmonious co-existence with the local communities is something that Nakatani takes extremely seriously. In addition to actively recruiting indigenous workers, CFSM donates to regional interests and helps to cover the costs of vocational training programs.
"This region has no main industry, so my hope is that we can help to stimulate its growth and development by making this business a huge success."
It is a hope that Nakatani shares almost every day, but there is an even deeper significance to his words. Silica sand is a vital resource for humankind, as the many products that are made with it continue to improve quality of life for people all over the world.
After the Inteview
It is about an hour's flight by light aircraft between Cairns and Cape Flattery, which comes briefly into view between each towering wave of a Northern Australian summer squall. Nakatani makes the flight regularly and is now on a first-name basis with those working the mine. The contrast between the white silica sand and blue sky is an impressive snapshot of our natural world, but it is the rich greenery surrounding the region that provides a keen reminder of CFSM's environmental considerations. The high-grade silica sand that is shipped from here to countries around the world ends up in products that are relied on by so many, and if I look hard enough, towards the end of the conveyor belt that stretches down the wharf towards the sea, I think I can just make out their smiling faces.
From the March 27, 2020 edition of The NIKKEI, Advertising